North Beverly Studio
4005 – 115 Ave, Edmonton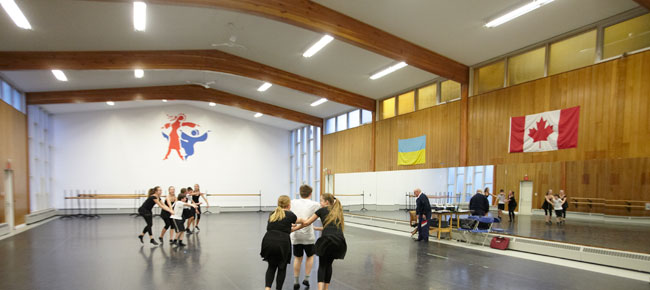 A safe and professionally equipped dance studio is crucial to the success of a well-run school of dance. The North Beverly studio is the Society's main studio and is ideal for fostering dancer development. Unique amongst dance companies, Cheremosh has owned its own building since 2004. We completed a $400,000 renovation to the building in 2013, thanks largely to provincial and federal granting, to provide an even safer and more functional environment for our dancers to develop their skills. We are proud of our studio that has been fine tuned specifically to our purpose and cannot wait for you to see it!
The 3300 sq ft practice area is one of the largest dance floors in Edmonton, including the Jubilee Auditorium Stage! The Cheremosh Studio is furnished with a professional sound system, dance barres and gender-separate change rooms, which adds to the comfort and security of our students. The building is spacious and ideal for accommodating the growing number of dancers becoming a part of the Cheremosh family. Its sprung dance floor prevents injury to dancers, and its full-length mirrors help dancers achieve optimum posture, clean dance lines and well-defined formations.
For parents who choose to wait in our building while their children dance, there is a comfortable lounge space with access to coffee, wireless internet and informational TV's.
Recreational Program Class Schedule & Registration
Academy Program Class Schedule & Registration