Wow…where to begin? Saying this is "the tour of a lifetime" or "the best experience of my life" isn't enough. We just finished our final performance and we're all on such a high! The atmosphere right now is amazing…I LOVE each and every person in my second family :)
The joyful tears on stage following our final hopak was such a special moment I will never forget. Tears seems to be a common theme throughout this tour. So many of us have experienced numerous moments of overwhelming emotion (one example being the moment we walked into Virsky's studio…instant waterworks!!) I find I am constantly reminding myself how incredible of an opportunity this is. Whether it be learning from the best in a workshop, to just looking out the bus window at our "motherland", I am extremely grateful that I am able to be a part of it all.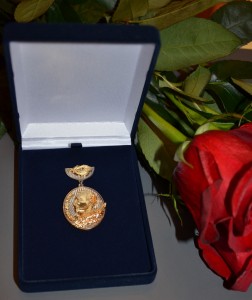 One of my absolute favorite moments of our tour was prior to our second show in Kyiv. The artistic director of Virksy, Myroslav Vantukh, spoke to the audience about how grateful he was that Cheremosh is able to keep the true cultural Ukrainian dance alive so far away from Ukraine. Then he provided Mykola with a Virsky Medal!! Mykola being the 67th person ever and the ONLY person outside of Ukraine to receive this award was an unbelievable honor! With tears in our eyes, and an immense amount of pride in our hearts, we performed a full show. For me, this was definitely my favorite show throughout the tour! It was almost as though each of us pushed even a little harder, beyond our greatest potential, to show Ukraine what Mykola has created in Canada. We wanted to prove, through our dance, that Mykola was absolutely deserving of this great award and Honor.
People in Ukraine are constantly amazed that we keep such a high level of Ukrainian dance alive so far away from Ukraine. But Mykola said it best to the audience in Chernivitsi, "We may not live in Ukraine, But Ukraine is in our hearts!"
– Stephanie Sirman