My sister, Lauren, and I were very excited to get to Lviv on this tour – even if it was after an overnight train ride that was a little bumpy. We were going to meet our relatives there. We had never met them before, except for a brief Skype conversation, but they sent me some photos so I would know who to look for.
Galya and her family greeted us in the morning at the McDonald's by the Hotel George – it was a notable landmark to meet at – and took us around on the town. We squeaked by with our weak Ukrainian and they kept telling us they wish they could say more in English. Never mind the language barrier, good company is good company – we visited a chocolate shop, went for coffee and crepes and they took us to the top of the clock tower at City Hall in Lviv. We figured out that our great grandmother is their aunt.
I invited them to come to our impromptu performance that evening. The Mayor of Lviv heard that we weren't planning to perform there, originally, and he arranged a special performance for us. We were to have a "dance battle" with another group from Lviv called Cheremosh! I was so excited for the show and especially for my family to see how Ukrainian Culture in Canada has evolved. They loved it!! They brought flowers and told me I was the best dancer (of course they did).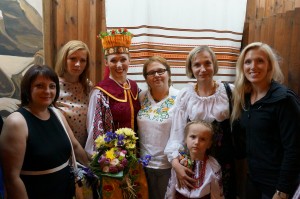 – Morgan Demers