Scholarships
Scholarship Donations
The Cheremosh Ukrainian Dance Festival recognizes excellence in Ukrainian dance by providing scholarships to deserving young dancers. The recipients are chosen by the adjudicator and are classified by category and age group.
Donations can be made easily online at CanadaHelps.org by selecting the "Cheremosh Festival Scholarship" Fund/Designation. You will receive an instant tax receipt for your donation.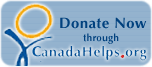 Donations are also accepted by regular mail. Please make your cheques payable to the Ukrainian Cheremosh Society, and mark them as "Scholarship Donation."  All donors will be recognized in the official festival program.  Tax receipts will be issued in the mail after completion of the festival.
Donors
Every year, the Cheremosh Ukrainian Dance Festival recognizes excellence in Ukrainian dance by providing scholarships to deserving young dancers. In 2012, Cheremosh awarded $4200, generously donated by the people below:
Over $1000
The John H. and Marie Koziak Foundation
Ukrainian Cheremosh Society
$500-$999
Chateau Louis Hotel & Conference Centre
Edible Arrangements
Explorer Industries
Iskra Trust
$200-$299
Larisa Sembaliuk Cheladyn
$100-$199
Suzirya
Adajio Dance & Skate Apparel
Canadian Cubicle Curtain Corporation
Mykola Kanevets
Levi McDonald
Ric's Grill
Stawnichy's Meat Processing
Tryzub Ukrainian Dance Society
Ukrainian Cultural Heritage Village
Unterschultz Family
Widynowski's Sausage House
Jared Wozniak
$50-$99
Marcus Karpoff
Stephanie Sirman
Mark Unterschult
$25-$49
Dance Unlimited
Kaylen Berry
Morgan Demers
Lachlan Dent
Leah Eliuk
Alexis Gelowitz
Meaghan Goebel
Anastacia Koper
Adriana Koziak
Brooke Miller
Jordan Onyschuk
Kelly Scott
Andrea Yakimyshyn
Annette Yakimyshyn
Under $25
Katryna Anderson
Emily Belke
Stephan Bociurkiw
Zorya Bociurkiw
Meriah Breckenridge
Nicholas Doblanko
Tania Doblanko
Erik Dolinsky
Lisa Dolinsky
Jason Eliuk
Brandon Forbister
Rebecca Hirniak
Rhiannon Howell-Matwichuk
Kendra Jocksch
Michelina Koper
Morgan McEachren
Jeremy McCaw
Jocelyn McCaw
Shereen Pennoyer
Daniel Podilsky
Nicholas Podilsky
Evan Reid
Adam Schuster
Deanna Sosnowski
Craig Unterschultz
Rebecca West
Vanessa Wiebe
Erin Woywitka
Brittney Wozniak