Documentaries
The Faces of Cheremosh: A Forty Year Reflection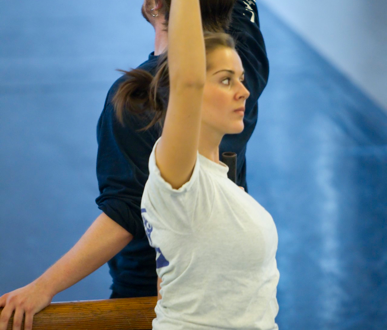 A story of the history of Cheremosh is a story of its people; from its founder Chester Kuc & his wife Luba to the Cheremosh Dancers themselves – all volunteers. The Board of Directors, the Costuming Committees, the Producers of tours, the Fundraisers, the Helpers – all volunteers. The Artistic Director only became a full-time, paid position in 1982.
Opening with Cheremosh's 40th anniversary celebrations, The Faces of Cheremosh – A Forty-Year Reflection explores the past 40 years of Cheremosh through the scenes of its people and performances.
Founder, Chester Kuc, who took the group to Expo 74, England and Ukraine shares the story of the beginning years as footage and  photos guide the audience.  Former dancers, as well as Alberta MLA Gene Zwozdesky, the Cheremosh music composer from these earlier years, share their Cheremosh experience.
The years under Cheremosh's first paid Artistic Director, Rick Wacko –currently a dance professor at the University of Utah –  are explored.  What was the motivation behind productions during his time; a period when Cheremosh stretched beyond the boundaries of more traditional Ukrainian dance?
Time is also spent with current dancers and their parents who danced years earlier.  How does the mutual experience of being a Cheremosh dancer connect them? What advice do the former dancers have for their children?  Archived footage and visuals provide interesting contrast to current footage.
We learn of the impact in the early 1990s of the hiring of Cheremosh's current artistic director, Mykola Kanevets. A Kyiv native and university trained ballet master and choreographer, Kanevets was offered the artistic director position while visiting in Canada – a critical move for the survival of Cheremosh. Since hiring Kanevets, Cheremosh has toured across Western Canada, into the U.S., to Scotland and to China. In 2005, the Ukrainian Cheremosh Society purchased its own studio; a significant achievement for this non-profit organization and its dance company of volunteers.
The final chapter of this documentary brings the audience back to the 40th anniversary celebrations to explore the preparations for the event from the point of view of the dancers and artistic director Kanevets. We also meet Alberta-artist Larisa Sembaliuk Cheladyn who was commissioned to complete a large painting depicting Cheremosh's costuming over the past 40 years; and are treated to a small sampling of Juno Award winner Malcolm Forsyth's commissioned music designed to reflect Cheremosh's music library. And in the tradition of Ukrainian dance, the documentary concludes with a montage of Cheremosh's 40th anniversary performance of Hopak.
Ultimately what we discover is that while evolution is part of Cheremosh's 40-year history, and the artistic director and behind-the-scenes volunteers influence each troupe making it unique from those that have gone before, there is still a "Cheremosh DNA". It is this connection we see weaved throughout this exploration of Cheremosh.
A Perfect Passion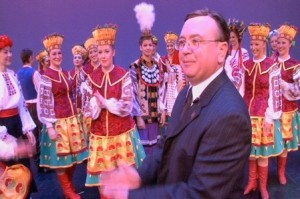 "A Perfect Passion" profiles Ballet Master and Choreographer Mykola Kanevets, one of the first to leave post-Soviet Ukraine to instruct dance full-time in Canada. In interview, Kanevets reveals why, when visiting Canada in 1991, he agreed to become Cheremosh's artistic director instead of returning to Ukraine where he was a respected head of a college choreography department.
Using "Edmonton Hopak", Kanevets' tribute dance to his chosen home as the vehicle to tell his story, this fast-paced, 43-minute film draws the audience into Cheremosh's studio and behind the stage of one of Alberta's premiere theatres to watch Kanevets in action with his dancers, all the while revealing Kanevets' own reactions, his philosophy, and his process for taking a dance from a mere idea in his head to a costumed production. It is a first-hand view of all that happens before the audience sees a dance; and a glimpse into the world of this usually very private man.