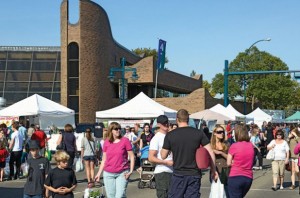 The Cheremosh Dance Festival is planning its second annual Cheremosh Market at the Festival.  Vendors selling homemade or handcrafted goods, Ukrainian dress and decoration, and food items are invited to be a part of the Festival Market.
The Cheremosh Festival is expecting to attract over 5000 people this year over the 4 days, and is the largest Festival of its kind.  The Festival is open to the public and there is no admission cost to attend or watch the performances.
WHERE: The Arden Theatre Plaza, 5 St. Anne Street, St. Albert, AB
WHEN:  The festival runs from May 7th-10th.  The Market will begin on Friday, set up time will be 10:30 am each day.
GUIDELINES:
1. All vendors are responsible for bringing all supplies they may need including tents, tables, chairs, extension cords, lights, props, etc.

2. Please keep in mind that we are operating the Market outside rain or shine.  This year part of the market will be held indoors, however there will not be an option to move inside should the weather be poor. Vendors are responsible for bringing weights to anchor their tent in the event of inclement weather.
3. The City of St. Albert has agreed to help supply power if any stands/booths need it.  If you require power, please email us to discuss your needs further.
4. Vendors are responsible for removing their own garbage and stall cleanup. Garbage cans provided in the market are for customer use only.
5. Vendors offering samples must supply garbage containers for their customers in an easily visible location.
6. The vendor shall be responsible for any insurance for their merchandise.
7. The Ukrainian Cheremosh Society will not be held liable for any damage, theft etc. that may occur during the Festival.
All vendors are responsible for the set up and take down of their booth each day.
8. Cheremosh reserves the right to dictate the location of the booths and which vendors will reside indoors/outdoors.
FEES:
$200 for the three days, plus 15% of all sales (if applicable) that will be returning back to the Arden/City of St. Albert.
Booths that require power will be charged an additional $50.
Every 10×10 tent/square of space will be the price above.  If you would like two spaces, the price would increase to $400 + 15%.
If vendors wish to purchase additional space for the showcase and sales of their goods, please contact our Market Coordinator for further details.
Any further questions can be directed to rhiannon.howmat@cheremosh.ca or 780-863-2465.