Artistic Director Mykola Kanevets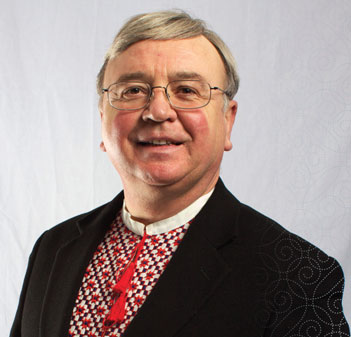 The Cheremosh Ukrainian Dance Company, as well as its affiliated performing groups, train under the guidance of Artistic Director and Ballet Master Mykola Kanevets.
During his years as Chair of the Choreographic Department of the Kyiv Cultural College, Mykola also taught various choreographic disciplines, including classical dance, national stage
dance and the composition and delivery of dance.
During his studies, Mykola had the opportunity to develop his dancing skills with the worldfamous Virsky Studio where he traveled throughout Europe with them. This experience, along with the training he received from such Ukrainian dance icons as Apukhtin, Virska, Zaitstev and Vasylenko, allowed him to refine his ability and expand his creative horizons.
A native of Kyiv, Ukraine, Mykola attended the National University of Culture and Performing Arts in Kyiv, Ukraine where he graduated from the Faculty of Choreography with the distinction of Ballet Master and Choreographer.
Mykola first began to work with Cheremosh in 1991, while teaching Ukrainian dance workshops in Edmonton, and soon after agreed to join the company as Artistic Director. His work and instruction has helped Cheremosh soar to new heights – his spirited passion, vibrant choreography and strong sense of discipline have brought Cheremosh phenomenal success as a semi-professional Ukrainian dance company.
Over the years, Mykola has created and staged numerous dance programs, such as Cheremosh's western Alberta Tour (1992-1993), Cheremosh's participation at the International Youth Festival in Aberdeen, Scotland (1996 and 2000) and the International Folk Dance Festival in Idaho (2002). Mykola also choreographed Cheremosh's 30th Anniversary tour production "New Beginnings" (1999), as well as, "Cheremosh… Revolutions!" (2005) and "Canadian Dance Steps: Journey to the Great Wall" in 2007. These incredible productions were followed with the "Art of Cheremosh" 40th Anniversary Gala in 2010, and Cheremosh's participation in the European Championship of Folklore in Bulgaria in 2011. Cheremosh's tour to Ukraine in 2013 promises to be one of the most significant and memorable tours for Mykola and current dancers in the Cheremosh Ukrainian Dance Company.
After more than 20 years with Cheremosh, Mykola's influence on the North American Ukrainian dance community continues to flourish.