Artistic Director Mykola Kanevets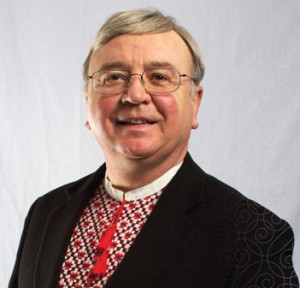 Mykola began studying dance as a young boy in Ukraine. He attended the National University of Culture and Performing Arts in Kyiv from 1975 to 1979, graduating with the distinction of Ballet Master and Choreographer. During his studies he had the opportunity to develop his dancing skills in the world famous Virsky Studio. Among Kanevets' own teachers were Ukrainian dance icons such as Apuhtin, Andreyev, Virska and Zaitzev. From 1982 to 1990, Kanevets was the Chief of the Choreographic Department at the College of Culture in Kyiv, Ukraine. He taught choreographic disciplines, classical dance, stage dance, composition and delivery of dance.
While visiting Canada in 1990, Kanevets was introduced to the Cheremosh Dance Company and in 1991, Mykola Kanevets became Cheremosh's Artistic Director/Ballet Master. Since that time, Kanevets' spirited passion, discipline, vibrant choreography, and strong sense of professionalism have brought Cheremosh phenomenal success. Cheremosh has performed his dances to audiences in Alberta, Canada, the U.S., China, Ukraine, Bulgaria, and Great Britain. Kanevets' most recent major production was Kaleidoscope of Dance (a collaboration with New York City's Syzokryli that premiered in New York City in October 2015, with Alberta and Saskatchewan performances in June 2016). Among his other major works are Bud'mo Cheremosh (Edmonton & 2013 Ukraine Tour); The Art of Cheremosh (celebrating Cheremosh's 40th anniversary); Razom: Fusion of Ukrainian Dance (Alberta & Manitoba); The Alberta Tour (bringing his art form to smaller centres in Alberta); Journey to the Great Wall (tour in China featuring Cheremosh, accompanied by Alberta's Blackfoot Medicine Speaks); Revolutions (Western Canada & United States); Share the Journey (Alberta & Scotland); and New Beginnings (Western Canada). This is in addition to multiple guest performances that Cheremosh has done over Kanevets' years as Artistic Director.
Kanevets has dedicated his life to the art of dance and is considered a gifted choreographer. His choreography, combined with his strong sense of musicality, staging and attention to detail ensures the Cheremosh Dance Company keeps its audiences entertained. Kanevets creates each Cheremosh dance himself, and then he oversees the development of the music and the costumes to accompany his choreography. The professionalism he brings to Cheremosh has raised the bar for folk dance in Alberta and beyond.
Mykola Kanevets is a recipient of a City of Edmonton Arts Achievement Award; a RISE Award (recognizing immigrant success and excellence); was named Maestro Academic at the 2011 Euro Folk Festival; listed as one of Alberta's Top 25 Ukrainian Artists in 2012; and received a Queen Elizabeth II Diamond Jubilee Medal the same year. Following Cheremosh's highly successful 2013 tour to Ukraine, he was awarded the Pavlo Virsky Medal (the first non-resident of Ukraine to receive this very prestigious honor). In 2016, the Alberta Foundation for the Arts recognized Mr. Kanevets' contribution to the Alberta KANEVETS 2 arts scene, naming him one of Alberta's 25 Influential Artists. Mykola was featured in a 2008 documentary entitled, A Perfect Passion: Mykola Kanevets and the Cheremosh Ukrainian Dance Company and in the widely televised, Faces of Cheremosh: A FortyYear Reflection (a 2012 Alberta Film & Television Award Finalist for Best Documentary over 30 Minutes).
Within Alberta Mykola Kanevets' influence on Ukrainian dance as a folk art form has been significant. Over his tenure with Cheremosh, this dance company has amassed one of North America's most extensive repertoires of Ukrainian dance choreography, music and costuming (all of which has influenced how other folk dance groups approach these elements of performance). Further, thousands of Albertans have had the pleasure of seeing Cheremosh perform Kanevets' challenging steps and demanding choreography, and he has advanced the audiences' expectation of this art form.
In the 2008 documentary, A Perfect Passion: Mykola Kanevets and the Cheremosh Ukrainian Dance Company, Kanevets responds to the question of why he chose to accept Cheremosh's offer to become its artistic director when he had a good position in Ukraine at the time (i.e., Chief of the Choreography Department at Kyiv College of Culture). Mykola explained that he felt many in Ukraine could do the job he had been doing there, but if he stayed in Alberta he would bring an academic understanding of Ukrainian dance, and a fresh approach and new knowledge, thereby having more influence on the art form here. Mykola was one of the first artistic directors to move to Alberta following the break up of the Soviet Union.
In addition to being Cheremosh Dance Company's Ballet Master and Artistic Director, Mykola Kanevets also oversees the Cheremosh School of Dance instructors (and instructs School of Dance Academy students himself). The Cheremosh School of Dance currently has over 160 students. Kanevets has dedicated his life to the art of dance and in his years with Cheremosh, he has influenced hundreds of dancers (many of whom have gone on to pursue careers in the arts, or to become part of the audience that enjoys Alberta's many art forms).
Mykola Kanevets' professionalism raised the bar for choreography and staging of folk dance in Alberta. His creative vision and his ability to impart to his dancers the tradition and technical mastery of his craft has introduced audiences to a new level of what to expect, and clearly he has had an impact on folk dance productions in Alberta (and beyond). He believes strongly in collaborations and over the years Cheremosh has shared the stage with groups such as the Swiss Men's Choir, the Edmonton Police Pipe Band, Blackfoot Medicine Speaks, as well as other Ukrainian dance companies; Cheremosh has also guest performed for the Edmonton Symphony Orchestra.
Mykola Kanevets is a world-class talent who chose Alberta as his home. He is a man who has not only brought first-rate entertainment to many Albertans, but he has brought recognition to Alberta well outside of Alberta's boundaries. In China, Cheremosh performed 10 shows in 20 days to over 25,000 people. In Bulgaria, when Mykola Kanevets took his Alberta-based Cheremosh Dance Company to the Euro Folk Festival in KANEVETS 3 2011, it was with the understanding that as a non-European participant, Cheremosh would not be eligible for any awards. Over the course of the event however, after seeing Cheremosh performances and the audiences' reaction to them, this decision was reversed. Mykola Kanevets was awarded the highest award, the "Maestro Academic" title and Cheremosh received the Golden Orpheus award, recognizing them as the "Absolute European Champion 2011", marking the first time anyone outside of Europe had received these awards. In Ukraine (2013) the media, the audience, the academia and the performing Ukrainian dance community embraced Cheremosh's choreography, staging and dance style, even requesting additional performances and awarding Kanevets the prestigious Pavlo Virsky Medal (for his influence on the dance form outside of Ukraine). Perhaps the words spoken by Canada's (then) ambassador to Ukraine, the Honourable Troy Lulashnyk at the reception he hosted following Cheremosh's performance in Kyiv best describes why Mykola was so honoured: To use Mr. Lulashynk's words, the audience was, "blown away" by the performance of this Canadian Ukrainian dance group. New York's Syzokryli's Executive Director, Ania Bohachesky Lonkevych has described Kanevets as, "elevating Ukrainian folk dance to a high caliber performing art". Clearly, Mykola Kanevets has had significant achievements in his career in the performing arts since becoming an Albertan over 25 years ago. He (and Cheremosh) has, and continues to, represent Alberta well both at home and abroad. Cheremosh performances under his artistic direction have engaged audiences from all walks of life. The arts connoisseur appreciates Cheremosh's complicated choreography and symphonic music; others find the athleticism and energy of Cheremosh's signature dances appealing – its audiences are made up of a broad range of people; its appeal well beyond the boundaries of those with Ukrainian heritage.